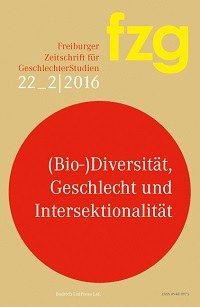 Current CfP of fzg: Issue 24 – The Place of the Political in Critical Feminist Materialisms
What is "new" in the theoretical debates and empirical analyses of Feminist Materialism and what are the critical questions regarding the political potential for instance?
With regard to current debates, this Call for Papers addresses the issue of the place of the political in Critical Feminist Materialisms as between bodies, technologies, and subjects in the context of individual and collective practices, societal structures, and symbolic norms. With the use of the plural we are emphasizing the different theoretical focuses and the corresponding different terms of current feminist-materialist concepts (such as Barad, Haraway, Sullivan, and Wuttig). With the addition of the word critical, we point to the political approach of gender studies, feminism, intersectionality, and queer and postcolonial studies, which Feminist Materialisms all draw on.
We're looking for articles along the perspectives of Feminist Materialisms and Critical Theory, of the Embodying Approach, of Soma Studies, as well as the Interaction of Queer, Intersectionality, and the Role of Materiality.
Deadline May 31st 2017.
Further content-related and formal information can be found in the Call for Papers or at www.fzg.uni-freiburg.de.