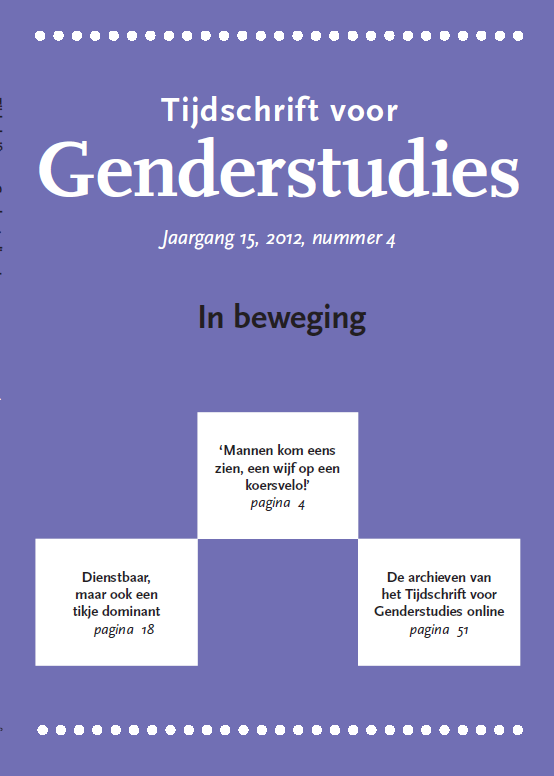 Call for Papers
Special Issue: Trans*: Approaches, Methods and Concepts
Dutch Journal of Gender Studies (Tijdschrift voor Genderstudies)
Guest Editors: Looi van Kessel, Liesbeth Minnaard, Eliza Steinbock (Leiden University)
Deadline (submission abstracts): March 15
This special issue of the Dutch Journal of Gender Studies (Tijdschrift voor Genderstudies) will be dedicated to the exploration of trans* as a critical approach to rethink the projects of gender and sexuality studies, critical race studies, decoloniality, and translation studies, following the June 2016 conference Trans*: Approaches, Methods and Concepts, organised by the Netherlands Research School for Gender Studies (NOG). Heeding to Susan Stryker and Paisley Currah's call to ask "what the transgenic, transnational, or translational […] might have to do with transgender, as well as what heuristic or analytic insights rooted in transgender experience might contribute to such transdisciplinary inquiries" (2015: 190), we invite scholars from all disciplines to respond to a gender-centered consideration of which kind of trans, where and how.
The asterisk (*) is a wildcard for the many possibilities for affixing trans to other terms. The prefix trans- shows up very often in the fields of gender and sexuality, in transnational, translational and transcultural theories, as well as in diversity and inclusivity studies. In its various iterations, this prefix shapes the ways in which these fields approach the intersections of social, individual, cultural, and national experiences. Eva Hayward and Jami Weinstein put it eloquently: "Trans* foregrounds and intensifies the prehensile, prefixal nature of trans- and implies a suffixal space of attachment that is simultaneously generalizable and abstract yet its function can be enacted only when taken up by particular objects (though never any one object particular): trans* is then more than and equal to one" (2015: 196). As such, a critical reflection of which assumptions and presuppositions are glossed over by the uses of trans- needs to depart from the manifold meanings that can be attached to it. This special issue aims to examine underlying assumptions and support reflection on the different layers of meaning in the professional jargon and analytical language of these fields. It provides the space and opportunity for deliberating the multiple workings of trans* as a prefix, as well as for discussing case studies that demonstrate its (un)productivity.
The editors of this special issue welcome scholars from all disciplines who are invested in analyzing difference and difference marking practices, such as gender, sexuality, race/ethnicity, class, religion, age, ability, and citizenship. We are excited to showcase research conducted into these social categories through methods including but not limited to empirical, historical, ethnographic, artistic, hermeneutic, and affective approaches.
Research articles are subjected to a double blind peer review process. Articles have to be submitted in English or in Dutch. The Dutch Journal of Gender Studies (Tijdschrift voor Genderstudies) is published by Amsterdam University Press: www.tijdschriftvoorgenderstudies.nl
Deadlines and timeline publication:
-    Submission of abstracts (+/- 450) to: tvgarchief@gmail.com
Deadline submission abstracts: March 15
-    Notification of invitation for full article before: April 15
-    Deadline first version articles (max. 6000 words incl. references and bibliography): June 15
-    Reviews from external reviewers received: September 1
-    Final version from authors (max. 6000 words): October 1
-    Publication: December 2017
Author Guidelines in English: http://nl.aup.nl/wosmedia/1399/author_instructions_tijdschrift_voor_genderstudies.pdf
Author Guidelines in Dutch:http://nl.aup.nl/wosmedia/2084/auteursinstructies_tijdschrift_voor_genderstudies.pdf
Editors:
Looi van Kessel: l.van.kessel@hum.leidenuniv.nl
Liesbeth Minnaard: e.minnaard@hum.leidenuniv.nl
Eliza Steinbock: e.a.steinbock@hum.leidenuniv.nl